K'S 300 Samsara Version review
The K'S 300 Samsara, The New TOTL Earbud
Introduction:
The K'S 300 Samsara Version is the new released flagship model of the K'S earbud line. The K'S Earbud's are known for high impedance models those benefits from a good source, especially amping.
Disclaimer:
First of all, I would like to thank AK Audio for providing me the K2S Samsra as review unit for my honest opinion.
Purchase Link: AK Audio
Package and Accessories:
The K'S 300 Samsara Version comes in a stylish wooden box that looks and feels nice in your hand. Every earbud in the premium line (K'S 500, K'S 300 Samsra etc.) has a unique serial number that is written on the box. The unit I have purchased came in a small typical card box.
K'S 300 Samsara Version and the Wooden Box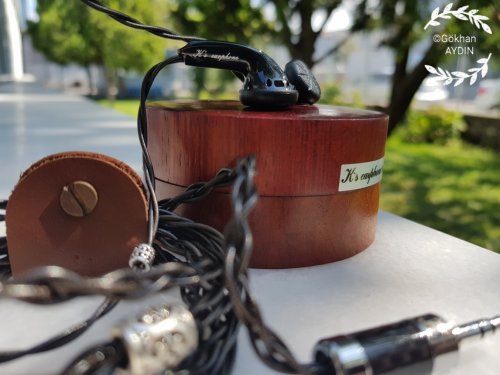 The card box includes the following contents;
1 pcs K'S 300 Samsara Version
1 pcs. of leather cable strap
8 Various sets of foam tips
1 pcs. of Wooden Box
Design, Fit and Build Quality:
The K'S 300 Samsara Version comes in classical / typical (Sennheiser) MX500 housing. The housing has a piano black glossy finish that looks and feels nice in your hand. The L and R markings are printed in white color that is easy to notice and a welcome for me, I know that is quite subjective but after so much irritation with so many earbuds, this is now a important point for me.
The Cable of the Samsara has a wonderful coating with a beautiful braided finish. The Cable is thick, feels quality and looks eye catching. They are to metal beads on this cable that gives a fashion style look.
A closer look to the cable and fashion style metal bead

The plug is made of aluminum alloy and the housing has a carbon fiber finish. BTW, I did notice only a very low amount of microphonics due this review.
Earphone plugs in order Masya (left) – Zen V2.0 (center) – Samsara (right)

Specifications:
The K'S 300 Samsara Version is a single dynamic driver earbud with an impedance of 300 ohm. There is no information about the driver diameter or driver material, but it looks like a 15 – 15.4mm diameter PET driver.
The cable material is silver plated cooper (SPC).
Technical Details:
Driver Type : Single Dynamic Driver (unknow diameter)
Sensitivity : 108dB / mW
Impedance : 300 ohm
Freq. response : 15-40000Hz
Plug/Plating : 3.5mm / Flat / Aluminum Alloy
Cable length : 1.2m +/-5cm
Weight : 15gr
Albums & tracks used for this review:
Dire Straits – Money For Nothing (DSF)
Michael Jackson – Billie Jean (DSF)
Diana Krall – So Wonderful (DSF)
Norah Johns – Sunrise (DSF)
Dr. Chesky's Binaural Album (Flac 24bit/192kHz)
Otto Liebert & Luna Negra – Up Close "Album" (DSF) – Binaural Recording
Metallica – The Black Album (Flac 24bit/96Hz)
Yosi Horikawa – Bubbles (Flac 16bit/44kHz)
Melody Gardot – Who Will Comfort Me (Flac 16bit/44kHz)
Daft Punk – Get Lucky (Flac 24bit/192kHz)
Hans Zimmer & James Newton Howard – A Watchful Guardian (Flac 16bit/44kHz)
Céline Dion – The Power of Love (Flac 16bit/44kHz)
Sources used for this review:
Erabud : K'S 300 Samsara Version, Rose Masya, Zen V2.0
DAP/DAC : Chord Mojo, Aune M2 Pro, Smart Player (aka Yin Lu Mei) D200+, Zishan Z2
A closer look to the housing of the K'S 300 Samsara Version

The Sound:
This review is written after an intensive burn-in process of +100 hours. Foam selection is stock Donut Foam.
Tonality:
The Samsara is a well balanced Earbud with a slightly warm tonality that has a non-fatiguing tuning that is ideal for long listening periods.
Lows (Subbass and Bass):
The first thing I noticed with the Samsara was the smoothness and accuracy of the lows. They are well controlled from subbass (20-60Hz range) to the bass (60-250Hz). It never sounded overpowered or thin.
The 250Hz region gives the bass of the Samsara a touch of warmth without the loss of definition and the subbas around 60 Hz gives the Guitar strings in Otto Liebert's – The River a wonderful taste.
Mids (Lower midrange – Midrange – Upper midrange):
The mid range of the K'S 300 Samsra Version is "Crystal-clear". The clarity and transparency of the mids is a real highlight of this 300 Ohm beast. Vocals and instrument benefits from this wonderful transparency. The 300 Hz region sounds slightly boasted, that could be the reason why the lower midrange is sounding so clear!
The upper midrange (2 – 4 kHz) were the Vocals is most prominent is clean, but i think that there is a tolerable amount of stress. I tested Céline Dion's "The Power of Love" and didn't noticed any fatigue to my ears when she said "Cause I am your Lady" 

All in all, I am enjoying both, female and male vocals with my Samsara.
Highs (Treble – upper treble):
As mentioned before, the Samsara is a very clear sounding Earbud. The clarity and definition that comes from the lower treble (around 4 kHz – 6 kHz) is outstanding. There is no over-boosting that could be too harsh for some genres, especially for bad recorded studio albums.
The upper treble presentation of the Samsara, especially around 13 kHz bracket gives it an airy presentation with lots of detail that is a real welcome for live recordings.
The Soundstage and Imagine:
One of my favorite tracks for soundstage and imagine is Yosi Horikawa's "Bubbles" and Ottmar Liebert's "Three Days Without You".
Liebert's binaural track that is recorded with a "Special Dummy Head" shows me the "depth of the soundstage" that is really great.
The width of the soundstage presentation is good especially for this price point. I have no problems to imagine the stage and the position of each instrument. The bouncing balls in Horikawa's track are easy to choose in the scene!
Comparison with other Earbuds:
I have test out some of my Earbuds in the same price league and here are some comparisons.
Rose Masya (left) – K'S 300 Samsara Version (center) – VE Zen V2.0 (right)

K's 300 Samsara Version vs. Rose Masya:
The Rose Masya is a mid-centric earbud that is a great choice for vocal lovers. K'S 300 Samsara Version is also o good option with but with more detail.
The Samsara has more midbass impact than the Masya, while the second is more focused on the subbass region. The Masya is easy to drive while the Samsara needs a good source to shine. The Masya has a wider soundstage while the Samsara is the winner when it comes to depth.
Zishan Z2 & Rose Masya (left) – Yin Lu Mei D200+ & Zen V.2.0 (center) – Mojo & K'S 300 Samsara Version(right)

K'S 300 Samsara Version vs. VE ZEN 2.0:
The VE Zen 2.0 has this special WOW effect that makes you smile for the first 10 minutes. It has this warm, powerful presentation that many peoples like in the "World of Earbuds". But when you switch to the Samsara, everything chances; the Zen V2.0 starts to sound hollow and bass heavy in comparison to the Samsara. Yes, it has this bold and wounderful warm vocal presentation with powerful bass, but the K'S is so clear, balanced and transparent that is really effortless!
By the end; The Samara is more detailed balanced and has also the better imagine and soundstage.
PS: The Zen V2.0 is also very sensitive to different sources. It match's good with the Chord Mojo, but sounds terrible with the Yin Lu Mei D200+, Zishan Z2 and Aune M2 Pro.
Pairing:
The K'S 300 Samsara Version is a power hungry earbud. It needs a good source to shine.
Best pairing: Chord Mojo > Yin Lu Mei D200+ = Aune M2 Pro > Zishan Z2
Zishan Z2: 
The Zishan Z2 is great player with good amount of power. Yes it sound well but you can feel that the K'S wants more juice to show its real potential. So if you have a Z2, don't worry its sounds good, but at the end you will miss a lot of potential.

The Rose Masya and Zishan Z2

Aune M2Pro and the Yin Lu Mei D200+ :
The Aune M2Pro and Yin Lu Mei D200+ have a lot of power due the Class A amplifier section. I love the AKM449X line sound signature that is great for eabuds. Both devices share the same sound signature and have many similarities, but the D200+ is a touch more warm and bold in the lower mid region.
They sound so close that I would choose the D200+ only because of the extra power.
VE Zen 2.0 and Yin Lu Mei (aka Smart Player) D200+

K'S 300 Samsara and Aune M2Pro



Chord Mojo:
The Chord Mojo is a little wonder to my ears. This litte gear has a lot of power and a great amaound of space and detail that makes it one of the best portable choices for power hungry earbuds like the K'S 500, K'S 300 Samsara Version and ZEN V2.0 etc.
The Mojo is the best pairing in my collection and I love the amount of detail that I can hear while listening to my Samsara.
The Mojo sound more transparent, vivid and airy with the K'S then all the other mentioned sources. When I start to pair the Zen V2.0 with my Mojo and crank the volume to the limits, I can feel that it starts to struggle, but the Samara on the other hand is very controlled, even in very high volumes.
K'S 300 Samsara Version and Chord Mojo

Conclusion:
Overall, the Samsara is the perfect choice in many aspects that needs a good source. The detail level and overall balance is the strength of this great earbud and I can only recommend it to any audiophile that loves earbuds and looks for a new pair of TOTL earphone.
Summary (plus and minus):
+ High amount of detail
+ Great balance
+ Beautiful cable
+ Good Fit
– Needs a good source to shine (300 Ohm)