Tin Audio T1 review
The Tin Audio T1; good price for a nice package…

1. Introduction:
Tin Audio is China based Audio Brand that is know is known for its IEM's like Tin Audio T2 and T515 that are sold for a reasonable price.
2. Disclaimer:
The Tin Audio T1 IEM was provided to me by the Tin Audio via Penon Audio for free of charge as a review sample. I am not affiliated with Tin Audio or Penon Audio beyond this review and these words reflect my true, unaltered, opinions about the product.
3. Price:
The MSRP price for the Tin Audio T1 is 36.,90 USD.
Purchase Link: https://penonaudio.com/tin-audio-t1.html
4. Package and Accessories:
The Tin Audio T1 comes in a small white card box with a Tin Audio Branding.
Inside it is another box that looks like a jewelry case with a blue pleather (faux leather) surface that looks and feels very nice.
This box includes the following contents;
1 pcs. of Tin Audio T1
6 pairs of silicone eartips
5. Specifications:
Driver : 12.5mm
Impedance : 16Ω
Frequency Response : 18-25000Hz
Sensitivity : 102Db
Plug : 3.5mm
Cable : 130cm TPU Coated Copper Cable
6. Drivability:
The Tin Audio T1 has an impedance of 16 Ohms and is a very easy to drive IEM. Even Smartphones and Tablets should be able to give this IEM enough juice.
7. Design, Fit and Build Quality:
The T1 has a modern, round shaped design. The all-metal aluminum CNC processed monitor housing is very nicely crafted and doesn't look cheap. There is a bass vent on the sides and a small grill right under the left / right markings on the inner surface of the T1.
The monitor is neither small nor big and sits quite comfortable in my ears. The noise isolation of the T1 is above average.
There is no cable upgrade option like on the more expensive T2 model, but the TPU coated copper cable is stiff but well made.
The cable has a nice looking built in microphone that has a good voice transmission.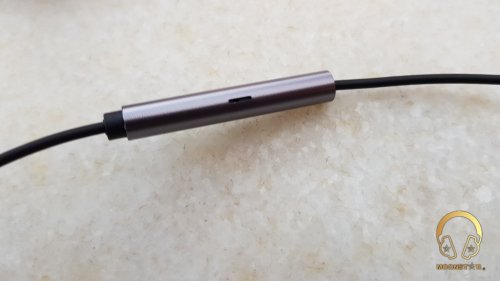 The Y Splitter of the T1 cable has the same design philosophy like the monitor and has also a round shape.
8.Albums & tracks used for this review:
Saskia Bruin – The Look of Love (DSF)
George Michael – Older Album (Apple Music)
LP (Laura Pergolizzi) – Lost On You "Live at Harvard and Stone" (Tidal Hi-Fi)
Dire Straits – Money For Nothing (DSF)
Mile Davis – Kind of Blue Album (Tidal Hi-fi)
Emmanuel Pahud (Claude Debussy) – Syrinx (Apple Music)
Aretha Franklin – I Say a Little Prayer (Apple Music)
Diana Krall – So Wonderful (DSF)
Otto Liebert & Luna Negra – Up Close "Album" (DSF) – Binaural Recording
Alboran Trio's – Cinque Lunghissimi Minuti (Tidal Hi-Fi)
Opeth – Damnation (Tidal Hi-Fi)
Megadeth – Sweating Bullets (Flac 16bit/44kHz)
Daft Punk – Get Lucky (Flac 24bit/192kHz)
Michael Jackson – Billie Jean (DSF)
9. Sources used for this review:
IEM : Tin Audio T1, Dunu DN12, KZ ZS6
DAP/DAC : Cayin N5II, Aune M2Pro, Chord Mojo, iPad Air 2
10. The Sound:
This review is written after a burn-in process of apprx. 100 hours. I have used the stock silicone ear tips.
Tonality:
The Tin Audio T1 has an engaging ound signature with a warm sound tonality.
Frequencies:
The Tin Audio T1 has a warm and strong bass response that reaches quite low. The bass reproduction and quantity is quite balanced. The bass amount is not on a basshead level, but, it should be quite enough for most listeners.
There is only a small lack of sub-bass quantity that has otherwise a good depth, softness and emphasis.
The T1's bass performance in some Megadeth or Opeth drums performances is pretty good. The speed, accent and tightness are quite impressive for this price point.
The bass quantity for genres like EDM, Pop and Trance music is quite good. There is only missing a small amount of depth.
The good thing about the bass of the T1 is, that there is no midbass hump that would otherwise make the midrange sound muffled.
The Tin Audio T1 has a nice warm sounding midrange, which gives male vocals strong presentation. Female vocals sounding warmer than normal but there is a nice sense of emotion. That means that the T1 performs better with male vocals than female. There is a small lack of clearness & transparency for female voices that is tolerable for this price range.
The instrument performance of the Tin Audio T1 is pretty good on non instrument intensive genres like rock, metal, pop and acoustic songs. The instrument separation is quite good, especially in acoustic recording.
People who prefer a warm and full sounding midrange will like the Tin Audio T1 very much.
The Tin Audio T1 has a well controlled upper mid- / treble range, which has good extension. It is not too bright and doesn't sound ear piercing and this makes it ideal for long listening periods.
The treble speed, extensions and emphasis of instruments like crash cymbals or hi-hat etc. is quite successful.
Brass & wind instruments or violins are also very satisfying. Even high-pitched string notes don't sounding too harsh or bright.
Soundstage:
The soundstage presentation is above average that is quite normal for this price range. There is a nice sense of space and enough air between instruments.
11. Comparison:
Vs. Dunu DN12:
The Dunu DN12 has more bass presence and depth compared to the T1. But the bass of the Tin Audio T1 sounds tighter and has also more speed, balance and control compared to the Dunu DN12.
The Midrange of the Dunu DN12 has a more forward presentation than the Tin Audio T1. Both IEM's have a relative warm sounding midrange that sounds great with female vocals, but both IEM's is missing some additional clarity and transparency, that I think is quite normal for this price range.
The midrange of the Dunu DN12 is loosing the control faster and starts to shine in higher volumes, while the Tin Audio T1 has the better overall control.
The treble range of the Tin Audio T1 sounds more forward and has also the better extension with more definition than those of the Dunu DN12. The Dunu DN12 has not enough treble speed for some complex passages.
Vs. KZ ZS6:
The KZ ZS6 is a V shaped IEM that has a relative bright tonality that is quite the opposite of the Tin Audio T1.
The T1 has more bass quantity, while the KZ ZS6 has a more sub-bass oriented presentation. The Bass speed of both IEM's is quite good for this price range, but the T1 has the better overall control.
The midrange of the Tin Audio T1 sounds fuller without to be muffled. Male vocals sounding better with the T1, while the ZS6 has more sparkle that is needed for female vocals. But there is a problem with the KZ6, the upper treble range is too present, that makes it to a very bright sounding IEM. This makes the vocal presentation of the KZ ZS6 a bit unnatural, while the T1 sounds more natural and emotional.
The treble range of the ZS6 sounds a bit too boosted, compared to the more balanced sounding Tin Audio T1. This makes the ZS6 sometimes uncomfortable and not to a ideal source for long listening periods. The Tin Audio T1 has the better control and tonality.
The KZ ZS6 sounds airier due its sound tuning. The ZS6 has more soundstage width while the Tin Audio T1 has more soundstage depth. The instrument separation and placement is almost the same.
12. Conclusion:
The Tin Audio T1 is a well made IEM with a warm and full sounding tuning that is ideal for male vocals and acoustic song, that makes it to one of the best IEM's in this price rabge.
13. Summary (plus and minus):
+ Great built quality (all-metal shell) and presentation
+ Good detail level for the price
+ Warm and emotional sound tuning
+ Build in Microphone
– No detectable cable
– Carry case is missing